No Thanks, just take me to Debbie's Community!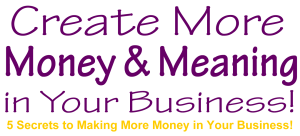 Join Debbie Delgado, Money and Meaning Expert, for this FREE AUDIO LESSON to create more MONEY & MEANING in your business! Hi, it's Debbie Delgado here, writing you from Illinois. I'm ready to reveal some of my BEST secrets for making more money in your business today! With this audio, you're going to learn:
How you can grow your business income, even when most business owners are hunkering down in their "recession" bunkers
The 5 Secrets to Business Success in our current economy
3 Mistakes that are keeping you from mastering money and meaning in your business
Strategies you can use now to start increasing your business income
How entrepreneurs like you are MULTIPLYING their incomes and lives while growing businesses they LOVE!

Get started right now just by entering your name and email to the right!
Abundantly yours,
Debbie Delgado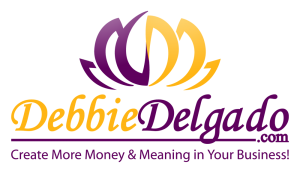 Debbie Delgado's mission is to help you transform your worry and
frustration about your business into Money and Meaning!  She's been
helping female entrepreneurs around the country re-ignite their passion
for their businesses and make more money so they can focus on serving
the planet instead of worrying about their bills!  As a woman, having
real meaning in your life and business is essential, and it's easy to
get distracted by the everyday busyness in your life and business.

Ready to leave that distraction behind and focus on what's really important to you?

Get started now!

Don't miss this chance to learn from Debbie absolutely FREE —Get FREE Access Now!